By Matteo Pascoletti
When does a photograph become a form of exploitation? What questions should photojournalists ask themselves before sending material for publication? When should the right to inform take a step back and let other rights, such as the right to privacy, prevail?
These questions challenge the ethics of photography and, specifically, of photojournalism as a profession. And while it is difficult to give them definitive and certain answers, they are bound to return cyclically to the fore. Like last May, when an open letter addressed to Médecins Sans Frontières condemned the INGO for publishing some photographs that, following controversy, were later removed from their website. The pictures, which featured an underage gang rape survivor from the Democratic Republic of Congo, were criticised for exploiting the girl's trauma to the organisation's benefit, exposing her to further danger and vulnerability.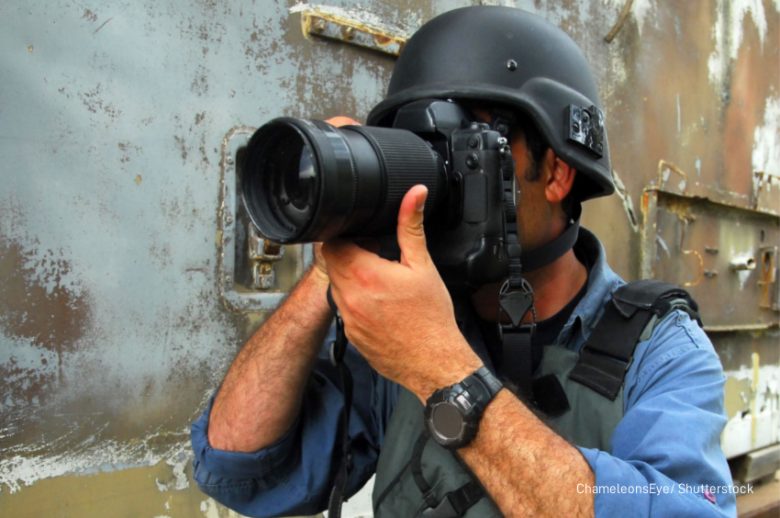 Promoted by – among others –  the organisation Decolonise MSF and counting staff members or former members among its signatories, the open letter addresses the INGO's top management and points out the common use of allegedly exploitative images, which are on sale on platforms such as GettyImages or Alamy. "We believe that Médecins Sans Frontières has commissioned, published and profited from photos that endanger and exploit children," reads the letter, which poses a question: "Do MSF's western staff apply a different set of ethical standards and legal protections to the patients they treat overseas than the patients they treat at home?"
In a statement, the international president of MSF said that the INGO is currently reviewing the entire archive of images and videos, and will move to adopt new guidelines. In regards to the images being sold on various platforms, the statement said: "MSF does not hold the copyright for these images, and does not profit from the sale of images from stock agencies. Nevertheless, we are concerned about how these images are being distributed and commercialised, and we have begun engaging with key stakeholders in the photo industry to address this problem".
Cases like that of MSF are not isolated, as Florian Strum pointed out two years ago when talking about what is published in the West. Expressions like "poverty porn" or "white saviour complex" denote a well-known phenomenon: the logic of representations that perpetuate stereotypes or power dynamics, thus damaging those very people whose story we are trying to tell. In particular, the term 'poverty porn' appeared in the 1980s to criticise the sensationalism of charity advertising campaigns, in which the depiction of poverty was pushed to the limit in the belief that it would thus induce solidarity.
This kind of approach reinforces the idea of a social group unable to provide for itself, and that can only improve its condition through the charitable intervention of the 'civilised' world – a Western, white and rich one. About this objectifying and exploitative gaze, Jorgen Lissner used the definition 'Merchant of misery' in 1981.
So if there is a need to draw a line, the difficult thing is to understand how, and where. According to Aidan White, honorary chairman and founder of the Ethical Journalism Network, there is a basic principle that every form of journalism should remember. "One of the core values of journalism is the ethic of humanity," he told Media Diversity Institute. "And the ethic of humanity dictates, of course, that journalism should do no harm." 
This principle must be applied in many ways when it comes to working with images. The first is not to promote hatred, violence or racism. In addition to this, journalists "should not engage in the sensational presentation of images of the suffering of others, merely for its pure sensationalist value, to draw attention, and so on," said White.
This of course has to be balanced with the need to document and bear witness, which is why it is always essential to ask as many questions as possible before sending photographic material to an editorial office, NGO or charity. The perspective in showing the same subject, from this point of view, is relevant. White makes the case of little Aylan Kurdi, the 2-year-old boy who drowned while his family was trying to reach Europe by sea from Turkey.
Many newsrooms "[used] the picture of Aylan Kurdi as the single shot of a child lying dead on a beach that conveyed an awful sort of sense of suffering and isolation", White explains. However, most of the media used the picture of the child being taken away by an aid worker. "That picture also showed the boy's body but showed it in the context of human solidarity that there was a sense of humanity in the way that that picture conveyed the story of the ordeal of migration," White continues.
Another ethical aspect to be taken into consideration is that of recognisability, and thus the danger to which the photographed subjects may be subjected. This was partly the reason why MSF removed the photos, as mentioned above. One specific context in which organisations must be careful is during demonstrations, protests or riots. As David Huerta reminds us on the Freedom of the Press Foundation website, photographers need to be careful not only of showing faces, or details that could expose people's identity, but metadata too, especially for photos intended for social networks.
Ethical issues can only be perceived as problems, or as invisible walls whose boundaries are never fully certain. However, they also offer opportunities to innovate the documentary industry, particularly when working with underrepresented realities and marginalised groups. One example worth mentioning is the Empowering Yazidi women through photography project. Supported by UNICEF and funded by the Italian government, it has seen professional photographers train Yazidi women in camps for displaced persons who have had to flee the persecution of Isis.
Guidelines and codes of ethics are useful navigational tools when decisions need to be made. However, it is in the experimentation with new formats, in the creative approach to moral conflicts and in the ability to question one's profession in multiple aspects (including the working conditions themselves) that it is possible to obtain consistent answers to the questions we started with.
---
Photo Credits: ChameleonsEye / Shutterstock