Saba Chaudhury
In recent years, the Transgender community in Pakistan has seen some positive legal developments regarding the status of their rights. In 2009 the country's Supreme court ruled that the country's 'hijra' community, which includes transgender people, should be able to identify as a distinct gender. Nine years later, the country's parliament passed the Transgender Persons Act which gave fundamental rights to the community and allowed them to have their gender identity recognized in official documents. However, even though the act forbids discrimination at school, work or on public transport, the transgender community in Pakistan still face significant challenges, including transphobic comments and exclusion from society, violence, and harassment. The systematic violence and discrimination that the transgender community face is displayed in the discriminatory attitudes displayed in schools and work places throughout daily life, despite the existence of a protective legal framework. Within this context, the media's role cannot be ignored.
South Asian media outlets usually associate the transgender community with negative stereotypes which, in some cases, can be incredibly dangerous.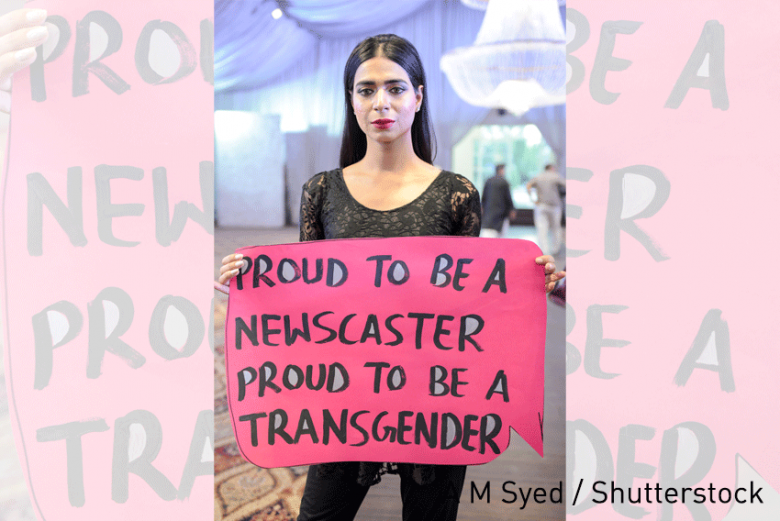 At the same time, following the changes to the country's legal framework, transgender journalists were allowed to become presenters. Marvia Malik became Pakistan's first transgender news anchor. When announced, the news of her appearance went viral on all the local and international media. According to people close to her, however, she no longer works in the media despite the significant impact made by the publicity of her appointment. Malik's change of employment field highlights transgender people's invisibility in Pakistan's media landscape, as well as the lack of transgender journalists working in print or broadcast media. This exclusion consequently leads to more exclusion from the society as transgender people's issues and transgender people themselves remain hidden from public media.
In order to look into the reasons why the transgender community is excluded by Pakistan's media, Media Diversity Institute reached out to Saro Imran, a youth advocate and social entrepreneur for the rights and empowerment of transgender people. Imran's aim is to become a journalist and is currently training with different media organizations while also writing occasionally. Imran was educated within Pakistan's educational institutions, which is not common for transgender people in the country, and her main purpose is to highlight the problems that women and the transgender community face in Pakistan.
"When it comes to working in the media, the majority of media organizations don't have any criteria for the third gender and there are no clear definitions as to that the transgender community really is. Then there are trans women who are either not educated or aware enough of jobs in the media because the companies don't have policies to highlight these issues," Imran tells Media Diversity Institute.
Even though Imran wants to work in media she is also aware of the pressure she has to face while working with different people.
"Equal pay is another issue [transgender people have to face]. We don't get equal pay and they use us as a tokenism. There is no meaningful engagement and because of this some trans people have stopped working with these big organizations," she continues.
"Two or three years ago our media portrayed trans community as a humiliating object. Nowadays, even though our media give us some space we are used in tokenistic ways," she adds. 
"Upon knowing I am a trans woman, people have started treating me differently at work. My colleagues cut me off and neglected me. Our workplace is not inclusive of the problems that trans people face. They have maternity leaves but they don't have leaves for trans people. They do cover women issues in insurances, but they do not cover anything that pertains to trans women," Mahnoor Ahmed who works as a writer for multiple real estate companies tells Media Diversity Institute. 
Ahmed stresses that the media could only improve and be more diverse if they include the lived experiences of the transgender community as they will be able to convey news related to them with more experience.
"There needs to be diversity in the media because trans people have lived experiences of what they face. The reporting about transgender lives in media is selective or often sidelined. It is necessary to include transgender journalists in newsrooms otherwise our voices and concerns won't be picked up by general public," Ahmed tells Media Diversity Institute.  
Mahnoor Ahmed stresses the fact that many of the trans community in Pakistan are not accepted by their families, who usually abandon them, resulting in them having to migrate to other areas in the country. They also often end up as victims of violence. Although the media have the power to change these perceptions by proper representation of the transgender community, the reality is much different.
"Media houses mostly focus on their promotion techniques and unfortunately in our society transgender people are still not considered as a normal," says Saadia Mazhar who is currently working with different media organizations and is part of a media house. 
Saadia Mazhar notes that the gaps in the educational system which has not been able to integrate the transgender community in a smooth way play a crucial role in people's future employment. Having fewer educational and professional skills restricts them from being part of the media environment which creates a big gap between the educational and professional course of the transgender community.
The transgender community has been fighting for their rights and their identity for years. However, despite the advancements of Pakistan's legislation, the reality that transgender people face is much different. While the country's media could have played a leading role in the representation of transgender people and the breaking of stereotypes, the country's conservatism prevailed.
"The media can hire them [transgender people] to gain sympathies but they cannot give them a suitable and respectful environment," Mazhar concludes. 
---
Photo Credits: A M Syed / Shutterstock