By Leah Brown
Media outlets using people who look like the perpetrators of heinous acts to criticise said acts is not new. GB News' Nana Akua penned this Daily Mail headline: "Thugs rampaging with zombie knives. Eight stabbings, 75 police officers hurt. Open drug use. And revellers urinating in gardens. To call this a celebration of black culture is an insult".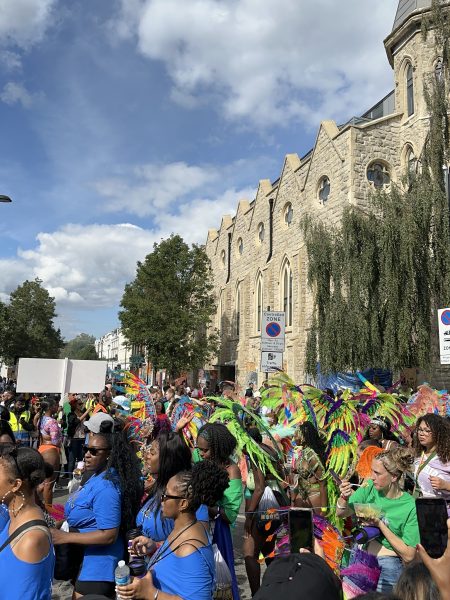 What is Carnival and why does it matter? Carnival has its roots in being a forum for protest. It's a festival that takes place in London during August Bank Holiday weekend founded by Windrush trailblazers including Claudia Jones and Rhaune Laslett to celebrate Caribbean music, art, food, and West Indian culture. It has been running for 55 years and is not only one of the longest running street parties, but the second largest in the world and the largest in Europe. It is believed that Carnival raises c.£100 million for the London economy annually. At its core, it is an opportunity to show up in a manner that is antithetical to the status quo. To wear meticulously designed outfits and to parade ones flesh around in a manner that causes your average Englishman to wince. It is a space for those of Caribbean descent to celebrate their history, a history which incidentally this government seems intent on erasing.
However, festivals are not renowned for their cleanliness; alcohol a miscreant makes, and people go to Carnival for a good time, not a long time. The fact that there are insufficient public facilities on the route gets no mention. No one is calling on sponsors or music acts to boycott the Reading Festival next year because of the absolute fiasco left behind by tents and personal effects!
Carnival is not a ticketed event so anyone can show up. Lee Jasper (ex-GLA) argued in The Guardian that this is the reason organisers can't safely plan for number of visitors. If the aim is for the police to operate effectively and intercept undetected drugs and weapons that clearly have fatal consequences, ticketing would be a good place to start.
Racially motivated or not, the Black community has received disproportionate blame over Carnival's events in 2023. Most Black people are non-violent. All people need to relieve themselves and only a microcosm of the general UK population choose to wield machetes. A BBC journalist stated that "it's certainly a shame that the events that predominantly celebrate Black culture are the ones given a negative spotlight."
By way of comparison, look at the way the media frames events concerning the LGBTQIA+ community. When Just Stop Oil disrupted London Pride earlier this year, the BBC quoted one of their leaders saying, "[s]o for us anyone who tries to disrupt that protest and parade is really letting down those people who use this space once a year to come together to celebrate and protest for those rights". Sound familiar? Another marginalised community seeking to express itself, to be seen, and to celebrate themselves. But their event is not at risk of censure or cancellation; further disruption would be unthinkable. Yet calls for cancellation of the Carnival ring out from the rooftops.
According to TimeOut, Notting Hill receives "up to 2 million attendees at Carnival every year" with an estimated 5% increase in numbers and volunteers year on year. Albie Amankona was quick to note, "on many proportional metrics, Glastonbury fares slightly worse than Carnival". While year on year the arrest trend is generally downwards, the type of violence seen across society is changing. It is helpful to breakdown the 308 arrests which included 57 assaults on police officers, 24 public order offences, 71 offensive weapons, 20 sexual offences, 9 grievous bodily harm, 9 actual bodily harm/common assault, and 43 other miscellaneous arrests.
The Ben Kinsella Trust reports a 75% increase in knife crime in England and Wales in 2022 compared to March 2013. It may be worth noting that the "Home Office has announced new powers for police to seize and destroy "zombie knives" and machetes that have no practical use, with a two-year maximum jail sentence for the importation, manufacturing, possession and sale of the weapons" although this is yet to come into force.
There is a problematic and inflammatory media narrative here that all Carnival attendees were dangerous, or worse, Carnival is too dangerous for the police to be able to police well (Express). These kinds of generalisations are unacceptable and Carnival's problems have become a "black culture issue" simply because the "thugs" were black.
To say there is not a direct link between the actions of the few that gave Carnival a bad name this year and the breakdown in trust in the police in the wider Black community would be a grave omission. Surely the issues arising at Carnival are a societal commentary on that breakdown in trust vis a vis stop and search, especially in the populis of North Kensington (Grenfell, Windrush etc. see Guardian). No matter how much money or police resources were directed at the event, violence was bound to ensue?
By Akua's own admission, "it only takes a couple of malevolent idiots to transform the whole event". It is generally accepted that one bad apple does not a whole bad tree make. The Black community is not endorsing the zombie knives or the people wielding them. We must accept that the police have failed to get to the root of the problem with knife crime and energies should be directed in facilitating progress on the increasing division and fear in society which is allowing this form of violence to be perpetuated with unsustainable regularity (see The Telegraph).
The future of the Notting Hill Carnival should not become collateral damage in the London Mayoral Race; violence in Morden Park and Heaton Park confirm that changing location is unlikely to achieve the desired effect. Rather, a multi-stakeholder forum must be convened to forge a path that ameliorates the experience of residents, police, government, attendees, volunteers, businesses and ensures the health and safety of the event.
I'll put my hands up and say I've never attended Carnival in London or Crop Over in Barbados where my family is from. But it seems obvious to me that Carnival is not the problem.
Leah Brown FRSA is a freelance writer for MDI and runs a crisis advisory and mediation boutique called Broadstairs Consulting. She hosts a weekly crisis podcast called The Longest Day.