By Jennifer Sizeland
In May 2023, British Vogue published a Disability Issue – a groundbreaking move for an upmarket glossy. The edition, titled 'Reframing Fashion', comes six years into the editorship of Edward Enninful, who took over the role of editor-in-chief in 2017. The concept took inspiration from Enninful's own experiences as a person with hidden disabilities.
'Reframing Fashion' featured 19 disabled stars with disability activist Sinéad Burke as consultant editor, working on behalf of her accessibility design firm, Tilting the Lens. The edition was also released in braille and audio form for those with sight or auditory impairments.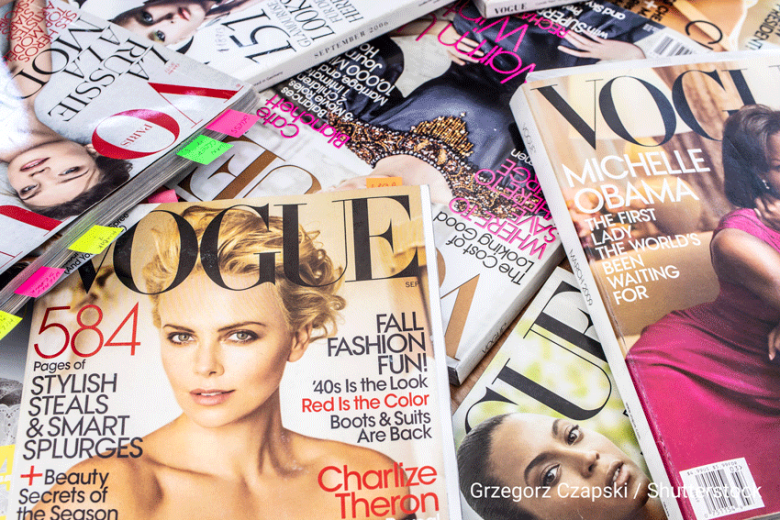 Diversity problem
During the premiership of the previous editor-in-chief, Alexandra Schulman, a fly-on-the-wall 2016 documentary entitled 'Inside British Vogue' revealed the board as being all-male despite the magazine being marketed for women. American Vogue received similar criticisms surrounding representation, notably for repeatedly featuring the same Black celebrities instead of showcasing new diverse talent.
Under Enninful, the 2019 and 2020 September issues of British Vogue both highlighted activists and changemakers, from footballer Marcus Rashford to former First Lady Michelle Obama.
Focussing on the Black Lives Matter movement, the 2020 issue was shot by Misan Harriman, the first cover in the magazine's history to be shot by a Black male photographer. At 85, Judi Dench became the oldest person to grace the cover and actor Timothée Chalamet became the first solo man to be featured.
Vogue was launched in 1892 as a weekly journal for the social elite of New York City. It has been a revered institution ever since, a position which can inspire real change in a publishing industry with a historic diversity problem. Enninful himself was told that inclusivity was "downmarket" in the early days of his tenure, a story he recounted in a BBC Radio 4 interview.
Where advertising dollars come from is a serious consideration in the increasingly fraught media industry. However, Enninful has turned down campaigns from brands that don't share his inclusivity values. While American Vogue reduced issues in response to the COVID pandemic, British Vogue stayed financially solvent and didn't skip a single month.
As UK businesses are estimated to lose around £2bn a month due to their failure to cater to the disabled market, there is ample room for innovation in the media industry. Around 15% of the global population is considered to be disabled, a community that spends an estimated $1.7 trillion per year.
In the UK, 13.7% of the population is BAME, according to 2016 ONS figures. However, a 2017 Guardian investigation found that only 20 of the 214 covers from the 19 bestselling magazines the previous year featured a person of colour, which translates to 9.3%.
While the UK has company-wide diversity schemes or initiatives specific to television or news, the magazine industry feels like a forgotten entity. It doesn't feel celebrated either as neither the British Diversity Awards nor the National Diversity Awards have a media-specific category to spotlight inclusive publications.
In the US, companies are being encouraged to take the Fifteen Percent Pledge, a campaign to dedicate 15% of shelf space to Black-owned brands, in line with the population. Vogue U.S. and InStyle magazine are the only two U.S. publishers who have pledged, but there are others trying similar schemes. They joined in 2020 after the murder of George Floyd fuelled BLM protests globally and put racial inequity under the spotlight. The Fashion Spot found that there was an uptick in magazine cover diversity as a result of this coverage. After examining 791 covers of 50 mainstream magazines, 2020 had 48.8% diverse models compared to 36.9% the previous year. The report also noted that the 2019 number dropped slightly from 2018 which was 37.7 percent.
In the same month as British Vogue's 'Reframing Fashion', Martha Stewart became the oldest person at 81 to grace the cover of the Sports Illustrated Swimsuit Issue. This move was dismissed as "tokenism" by Guardian columnist Zoe Williams, preferring Enninful's approach of working with diverse contributors behind the scenes, such as the decision to make Sinéad Burke a consulting editor. "If you want representation to stick, it has to be in the foundations and not just dressing in the windows," she wrote.
Farrah Storr, former editor-in-chief of Cosmopolitan UK, recently reflected in her newsletter on her polarising decision to put plus-size model Tess Holliday on the magazine's cover in 2018. "The truth was, this cover was in no way an attempt to force a belief system on anyone. It had merely been an opportunity to open up debate about something the world seemed nervous to talk about: women's bodies," she wrote. It's now five years later and a survey by the TV show Loose Women found that 6 in 10 women don't feel that they see enough body diversity in the media.
When it comes to diversity and inclusion, magazines may have much to consider, but the benefits are obvious. In a tumultuous time for the media industry, every magazine needs to fight for a place on our shelves by demonstrating a passion for its audience.
Both personally and professionally, Enninful's inclusive regime worked out for him and the brand. He was promoted to European editor for Vogue, covering the UK, France, Italy, Germany, and Spain.
This success shows that not only can it be done, but also that the industry needs to change to stay relevant and profitable. Vogue's platforming of diversity may be able to provide a big steer to where we want to go, not only in the UK's magazine industry but its entire publishing arena.
---
Photo Credits: Grzegorz Czapski / Shutterstock