The Institute of Journalism and Communication Research (IJK) Hanover, Germany published a new Handbook on Diversity in Media and Media Management based on the work of eight students from a Master's class called "Diversity in Media Management".
The handbook is available to download on our Resources page
From the Handbook's introduction: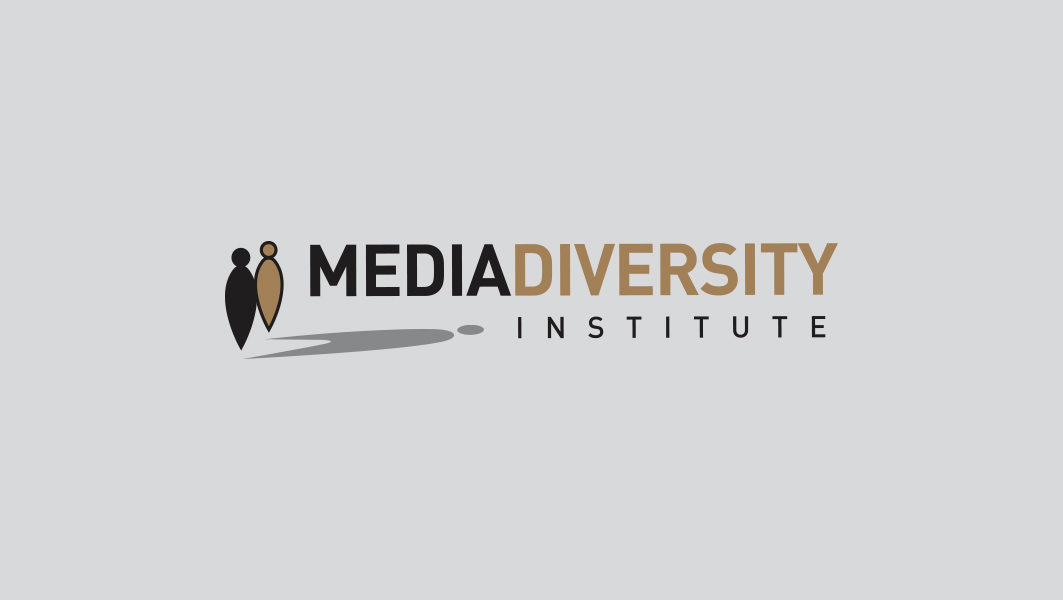 Today, people in every field and area are discussing issues of diversity: from the most renowned companies to the smallest schools in the neighbourhood. Indeed, the whole history of life on earth teaches us that diversity is needed. This is also the case for the history of ideas, as well as the diversity of cultures, philosophies, models, strategies and inventions. They all have allowed for the birth and development of various civilizations. As stated by the Universal Declaration of Human and Citizen Rights (1948), people are all equal, that is, they all have the same rights, the right to life, health, respect, the freedom to fulfil themselves according to their wishes, the right to express their opinions, to choose their religion. From this point of view, diversity is an irreplaceable resource.
Being equal, therefore, means having the same rights. However, it does not mean to look alike, to think, to speak, to dress, to behave all in the same way. Bringing different experiences to the table helps to change the perception of ideas for the better. All humans have their own way of seeing things, which is influenced by lifestyle, family environment and the cultural and social environment of which they are part. Thus, while everyone has their own language, their own customs and their own skin colour, the perception of what is recognized as "right" or "normal" is influenced by the historical, social and geopolitical context in which people grow up.
This handbook is based on European and US-American data and research for several reasons. The first, which also justifies the other reasons, is that media production and distribution in music, film or television still are very Westerncentric, in particular US-centric. This relates broadly to concepts of "Americanization", a phenomenon understood as a long-term process through which the United States has tried to shape a whole part of the world according to its own principles (e.g. capitalism, democracy etc.) by being able to export a number of social, political and cultural principles (Fluck,1999).
But differently, what happens inside the US affects the outside world in particular when it comes to cultural industries and communications (e.g. music, film, television etc.). The second reason why this handbook focuses on US data is due to the current situation of the global communication and media system. Nowadays, US tech-companies are the biggest players in the media and communication industry. In 2020, eight out of the ten largest media and communication companies in the world were located in the United States: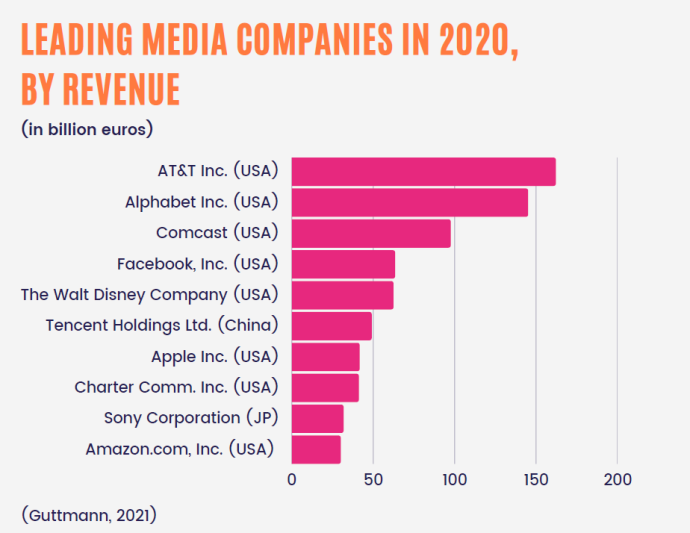 Thus, though there is international competition, for instance from China or India, there is an undeniably strong global dominance of US media and communication corporations: search engines such as Google, social media platforms such as Facebook, giant conglomerates like The Walt Disney company or streaming services such as Netflix are just some examples.
Thus, also their approaches to diversity (or the lack thereof) affect all of us. Last but not least, another reason for the US focus of this handbook relates to the data itself: US data and research on issues of diversity and inclusivity management is easily accessible. This is because US companies were among the first to discuss these issues. The question of data is much more complicated, however, when one looks at different countries in Europe or the global south. Still, with the global spread of US media and communication corporations, it can be expected that there will be greater corporate awareness for issues of diversity in the future. This makes it even more important to have a differentiated understanding of diversity issues.
Indeed, for some time now, diversity has been playing an increasing role within companies and among employers (La'Wanna Harris, 2019). Diversity management aims to promote the social diversity of employees in order to use diversity constructively for the company. Internal factors, such as gender, sexual orientation and ethnic origin and external factors, such as marital status and parenthood, play a role. However, it is also important to emphasize that diversity can amount to more than that. Diversity within companies should help different employees with individual backgrounds come together to strengthen tolerance and also contribute to the strategic success of the company (Jacob et al., 2020).
A tolerant and inclusive human resource policy should help to attract employees for whom diversity and equal opportunities as well as a multicultural and diverse corporate culture are an important part of broader societal change. However, it is not enough to hire a few women or people of colour to show how diverse a company is. Simple lip service is a fallacy. Companies as well as their workforce must be open to creating a diverse and respectful environment (La'Wanna Harris, 2019) Diversity of people will not automatically translate into diversity of thought and improved business performance unless organizations create the respective culture and individuals have high emotional intelligence (Jacob et al., 2020).