By: Mikhail Yakovlev
Over the past few weeks, LGBT media from mainstream magazines like Out Magazine andfashion foul play Instagram watchdog @diet_prada have posted tributes to Marsha P. Johnson, the trailblazing Black drag queen who threw the first brick that started the Stonewall riots.
As this year's LGBTQ pride celebrations coincide with a global uprising against police brutality and systematic racism and violence against Black people, it seems fitting to commemorate the iconic Black drag mother who started it all. However, the queer Black activists of today wonder if this representation will be there after #BlackLivesMatter leaves the headlines—and whether this is a tribute or tokenism.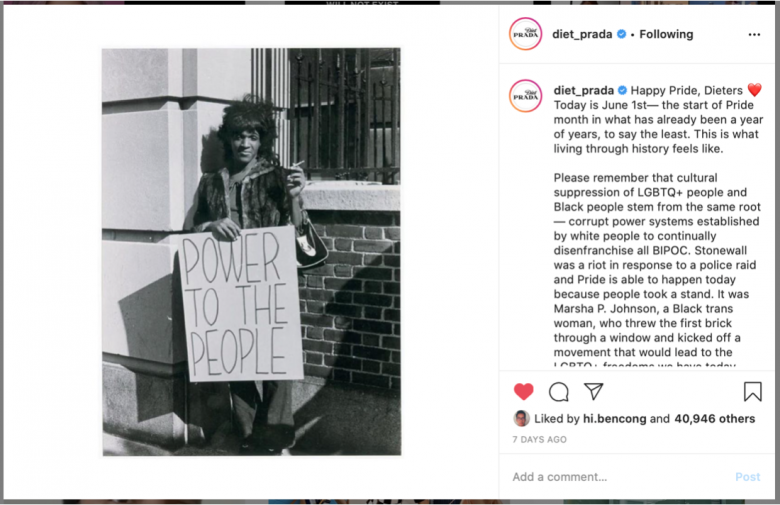 "There is a thick line between representation and tokenism," said Aude Konan, a French-Ivorian writer and filmmaker based in London.
"Marsha P. Johnson and Sylvia Rivero are used as tokens by the media and influencers to resist accusations of racism. If you can only name two people to represent us, then you are guilty of erasing us."
While mainstream media is acknowledging the LGBT activists of colour standing up to police brutality in the past, there has been very little mention of the present, including the murder of Black trans man Tony McDade by Tallahassee police, two days after the tragic killing of George Floyd that inspired the #BlackLivesMatter protests.
"Hundreds of Black people have been killed by police in the UK, US and elsewhere but these deaths have remained normalised," said Black British Academics Founder Dr. Deborah Gabriel, pointing out that those writing about the protests rarely mention the three Black women who founded the movement.
"Why has it taken eight distressing minutes of video footage depicting a Black man being murdered for us to hear about this commitment from Pride media?" said British-Jamaican artist, activist and academic Jade Pollard-Crowe, pointing out that these more mainstream LGBTQ media outlets should be aware of the enormous amount of police violence that Black transwomen routinely face.
Meanwhile in Europe, there is a push from the media to blame racism on the United States, and ignore the numerous ways that racism intersects with homophobia in their countries, as well. Just last week, European Commission Vice President Margaritis Schinas claimed that a US-style "police crisis" was unlikely in Europe, but didn't mention the numerous ways that colonialism has informed structural racism across the continent today.
"How can you say that there is no racism in Europe when US racism was born in Europe?" asked Rachael Moore, the coordinator of Rainbow House in Brussels. Konan had a similar experience while they were living in France. They struggled to publish the stories that they wanted to write about queer, Black people navigating life in France, as publishers pressured them to write stereotypical stories about Black people in the United States instead.
While many British activists are starting to make the connections between the anti-racism conversation unfolding in the United States and their own history, there is still a long way to go—particularly in terms of the intersections between queer activism and racial justice.
"Black queer life in Britain marks a site of invisibility, a footnote rarely publicised or remembered," said Sue Mary Lemos, who researches Black British queer activism at the University of Warwick in the United Kingdom.
"There is much more awareness of what happened in the US. Black and Brown transwomen were integral to Stonewall, integral to the whole queer movement over there," she continues, pointing out that alternative media and initiatives, such as AZ Mag, Haringey Vanguard and the rukus! archive founded by Ajamu X and Topher Campbell have worked to record some of these histories in the absence of mainstream attention.
In the absence of this intersectionality, there is also a misconception that a person of colour is almost always homophobic—even though decades of this history, and activism say otherwise. Pollard-Crowe sees this come up in media coverage of homophobic hate crimes that almost always emphasise race if the perpetrator is Black, but not if they are white.
In her work as an artist, she seeks to challenge this notion of Black homophobia.
"I make reference to queer Black history while critiquing the exoticized femme space offered to Black women and the heterosexist hyper-masculine space offered to Black men in popular culture," she says, describing some of her performances.
Pollard-Crowe hopes that media can do more to break down some of these racist stereotypes.
"Celebrate the agency of Black LGBTQ people, charities and organizations," she urges. "There are incredible Black activists who fought for LGBT liberation—highlight them!
However, Dr. Gabriel is less optimistic that the media is up to the task—in her eyes, the mainstream media is so dominated by white, male, middle class, heterosexual narratives, that these views are always centred, and presented as universal even though they're so obviously not.
"White-owned media have their own agendas and it is not radical change," she said, adding that the only way around this is to create new media networks—she herself has started People With Voices, Black Bloggers UK & International Network.
"We need to develop and sustain our own networks and amplify our own voices, she continued. "There will never be change unless we continue to challenge, continue to demand change, continue to use our political and economic will to bring about change – and not just when journalists decide to focus on race."
Many other people interviewed for this article agree—Konan now runs personalised workshops for Black storytellers. Moore shares that last year Black Belgian LGBTQ activists crowdfunded to produce Extra Nostro – the world's first ever French-language series about Black LGBT+ people. Established media houses were not interested in supporting it.
"Black people face great challenges being heard in the mainstream. Black women face greater challenges – and, Black LGBTQ people, even greater," Dr. Gabriel concludes.
"But, we must strive to be more collective and inclusive and to draw attention to the myriad of ways in which racism manifests for different identities."