By Jennifer Sizeland
The British media industry is one of the most respected and prolific in the world, but its reliance on freelancers and fixed-term contracts makes it a complicated career to build a life around, especially for those who are pregnant or parents of young children. As the UK's creative industries contribute almost £13 million to the UK economy every hour, it pays to keep those brilliant minds at work.
I've worked in the industry since my early twenties and now that I'm in my mid-thirties and due to give birth, the lack of any sort of safety net or maternity benefits from my employer of nine years is difficult to accept.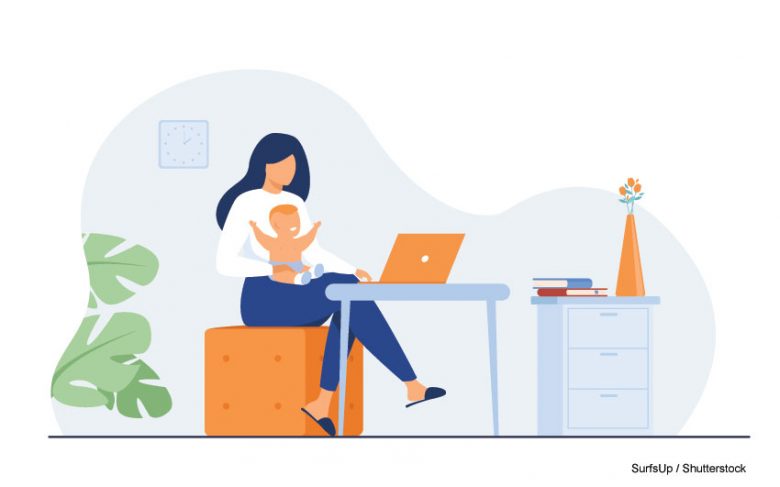 The sad truth is that I'm by no means alone in terms of losing my job due to pregnancy and the lack of support net for those on fixed term contracts. A break in my contract over Christmas when I discovered I was pregnant meant that I was not eligible for statutory maternity pay from my employer, even after the nine years I'd put into my career with them.
It is estimated that 54,000 women lose their jobs every year for getting pregnant across all industries and this is a hemorrhaging of great skills that is barely acknowledged by the government or the employers themselves. The media industry is deeply underserved by official statistics that do not take into account the true numbers in the workforce. This is because it is so reliant on self-employed freelancers or PAYE freelancers, as I was.
The Film and TV charity raised this as an issue to the Digital, Culture, Media and Sport Select Committee during the COVID-19 crisis in 2020. In their research, they found that the 'Government's ONS data significantly under-reports the number of freelancers working in film, TV and cinema.' They concluded that as a result, those in the industry including pregnant women are 'under-served by the Government's support schemes,' in several areas, including COVID support for which only one third of the industry were eligible.
Sadly, it is easy to see why mothers and those who are pregnant feel like they need to leave the media industry. The hours are long and unpredictable, wages can be low and not always enough to cover childcare, you may be demoted on your return and being on maternity leave means missing out on promotions and opportunities. Interviewing for a contract after time away without the safety net of a permanent job means there is no guarantee that you will be able to do the same role or earn the same wage when applying for another contract.
This is what happened to a presenter whose contract was given to someone else despite the success of her radio show. She had to spend her maternity leave looking for another job and when she did get back in, it was with a huge pay cut.
"I took half of my original salary and almost had to go back to the beginning, it was a nightmare," she told Media Diversity Institute.
This happened with both of her children so she had to endure a frustrating legal battle the second time which resulted in a termination agreement. She has not been able to get a job since.
"Both times I've had a baby I've been penalised career-wise and it's been really stressful," she continued.
Fixed-term contracts are a major problem with one ex-member of production staff describing them as an 'unexplored phenomenon' as they allow employers to more easily get rid of people despite having a similar legal status to a staff job.
She described her anger at her employer's attempt to 'force her out' of the industry when her contract was finished, even though the show she worked on was ongoing. It also made her feel very vulnerable:
"I'm pregnant and you're telling me I won't have a job in a month."
She also fought it but admitted it was difficult,
"it's risky to fight, you feel pressure to be the 'yes' person they need." In the end, she was given a permanent job but at this point she felt so disfranchised that she quit and started a new career. After speaking to people in the same position since then, she concluded that "so many had babies and never came back," she told Media Diversity Institute.
According to the Looking Glass Report, 77% of female freelancers aged 30-39 have already considered leaving the industry. With so many pregnant women or those with young children leaving or not even entering the media industry, the question is who will represent the voices that we are losing?
People in the industry who are marginalised due to their disability, gender, race, sexuality, class and other factors are much more profoundly affected by the lack of benefits like statutory maternity leave and flexible hours within the industry. The Institute of Social and Economic Research found that under-represented groups are less likely to have the financial security to weather the long periods of unemployment that come from maternity leave, childcare, COVID or other health problems.
Those that are in the most privileged positions are the most likely to be able to hold onto their jobs in difficult times, so we are losing some of our most-needed voices from the industry. These are also the voices who would be amplifying the stories of other women, carers and parents who experience discrimination in their workplace or job sector so the cycle continues.
Another issue is that like other British institutions, the industry was built by men and for men, meaning that women are left out of the decision-making even now. Job insecurity also makes it very difficult to make your feelings known for fear of losing a career that is so hard to get in the first place.
The lack of maternity benefits makes less sense as many in the media industry repeatedly work for the same employers and 36% pay taxes via PAYE for the entire time as opposed to being paid like a freelancer. Even though the pay and work conditions are very much the same as a staff job, it can be complex to achieve the same rights like sick pay, holiday pay, maternity pay, or a job to come back to after maternity leave.
The question remains as to what both the government and employers can do to stop what the Film and TV charity calls 'a leaking talent pipeline' of 'mid-career women in production, women of mixed ethnic backgrounds.'
A combination of flexible working, a more supportive work culture, valuing women's contributions, shared leave, more part-time jobs, better maternity pay, and protected job opportunities post-maternity leave would all make the media industry a better option for working parents. It is just a shame that it is too late for the many women who have taken their talents elsewhere.
---
Photo Credit: SurfsUp / Shutterstock